Welcome to Elite Massage School's Student Clinic.
Student Clinic is where current students, of Elite Massage School, provide massage services under the direct supervision of a Clinical Instructor with at least no less than 3 years out in the field.
These students are at the stage of their education where they need to continue to practice what they have learned so they can become elite, efficient, and confident in their skills before graduating and successfully continue onto their careers in the field of massage therapy.
That is where you come in and book a 60-minute massage at a discounted price of $40 (USD).
Starting March 9th, 2023 we will have openings at:
10:00 AM and 12:00 PM; every Thursday until July 27th, 2023.
Listed below is our current schedule (you may click on it to enlarge).
We will have (5) days at which the price will be reduced by 50% to $20 (USD) if you allow the students to practice what is highlighted. It may be incorporating a certain area of the body (such as neck or back work) or it may be introducing massage tools (such as myofascial cupping or hot/cold stone therapy) or even being able to provide a certain modality (such as sports massage). If you all the students to properly train in these areas during your massage; we will then in exchange provide the 60-minute massage for only $20 (USD).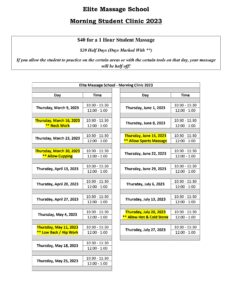 If you wish to book an appointment, please either scan the QR code or click the BOOK NOW link to continue.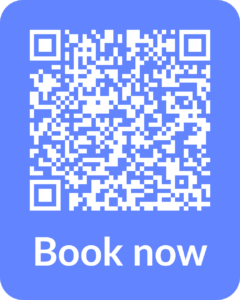 Thank you for your cooperation and participation in helping our students get closer to their educational goals of becoming a Licensed Massage Therapist (LMT).